---
What is a Queue Management System / Queuing System?
A queue management system is a set of tools and processes used to control and manage the flow of customers or tasks that are waiting to be serviced. Such a system typically involves both a physical line or virtual queue where those in line wait until they're next to receive a service.
Queue management systems are common in numerous sectors and are critical for maintaining efficient and fair service in many contexts, including but not limited to retail businesses, call centers, hospitals, and government agencies.
A more complex form of queue management will handle pre-arrivals, onsite and post services as describe later within this article.

Table of Contents
Types of Queue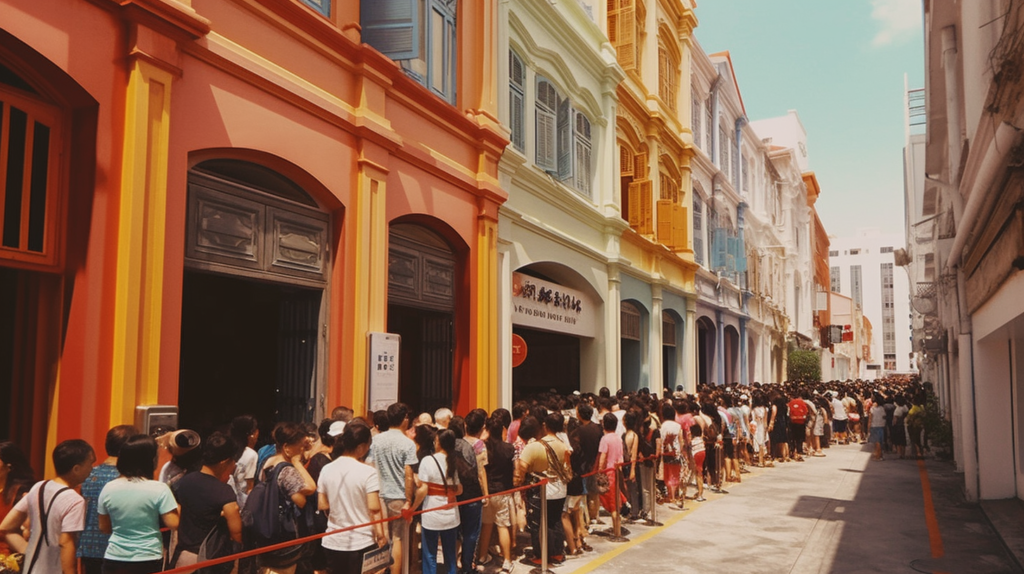 Structured/Standing Queue: A structured queue are fast moving queues where the time of transaction is usually less than 3 minutes. These type of queue is normally seen at Fast Food Restaurants, Lottery Booth Queues etc. These queues will have customers lined up physically in a row.
Unstructured Queue: A unstructured queue are queues where there are multiple entrances.
Common Issues faced due to a lack of queue management
Long Waiting Time: One of the most common issues with queues is the time taken waiting in line. Extended wait times can lead to customer dissatisfaction and loss of business.
Unclear Queue System: Sometimes it's not clear where the queue starts or ends, or which queue is for what service. This lack of clarity can lead to confusion, frustration, and disorder.
Lack of Information: A lack of regular updates on expected wait times can lead to frustration. Customers appreciate knowing how long they can expect to wait.
Queue Jumping: Sometimes, individuals may ignore the queue and try to get served ahead of their turn. This can frustrate other customers and cause conflicts.
Inadequate Staffing: Having too few staff members to manage the queue and provide service can lead to longer wait times and lower customer satisfaction.
Poor Environment: Standing in a queue can be physically demanding. Lack of seating, poor climate control, or a noisy or chaotic environment can make the experience even more unpleasant.
No Queue Diversion for Special Needs: It can be an issue if there's no provision for the elderly, pregnant women, people with disabilities, or those with other special needs, who might require quicker service or a more comfortable waiting environment.
Inefficient Service: Even if the queue system is well-managed, slow or inefficient service can lead to longer wait times and dissatisfaction.
Inconsistent Queue Speeds: In places where there are multiple lines, one queue may move faster than another, causing frustration among those who feel they've chosen the "wrong" line.
Lack of Accessibility: Queues should be designed with accessibility in mind. For example, there should be enough space for individuals in wheelchairs to navigate the line.
Benefits of using a Queue Management System
A queue management system provides insights to service staff performances by measuring the time taken to serve the
Improved Customer Experience: With a queue management system, customers won't have to stand in long lines. Instead, they can continue shopping or wait comfortably until it's their turn. This reduces stress and improves the overall customer experience.
Efficient Time Management: A queue management system allows customers to reserve their spot in line and better manage their time. They can do other tasks or engage with other products/services while they wait.
Reduced Wait Times: Queue management systems are designed to minimize waiting times by optimizing the queue flow. The perception of waiting time is also reduced, leading to higher customer satisfaction.
Fairness: Queue management systems ensure a first-come-first-serve policy. This fairness can be appealing to customers as it eliminates any perception of favoritism or neglect.
Real-Time Updates: Many systems provide real-time updates, such as wait times or current position in line. This feature allows customers to plan accordingly, reducing frustration and anxiety.
Increase in Sales: The more comfortable the waiting experience is, the more likely customers are to return. This directly impacts customer loyalty and can increase sales in the long run.
Digital Options: Digital queue management systems can offer customers more flexibility. For instance, they can check in remotely or receive notifications on their mobile devices.
Feedback Collection: Some queue management systems offer feedback collection features. This way, businesses can continuously improve their services based on customer insights.
Improved Staff Efficiency: Staff can manage queues more effectively with these systems, improving their productivity and morale, which can also positively influence the customer experience.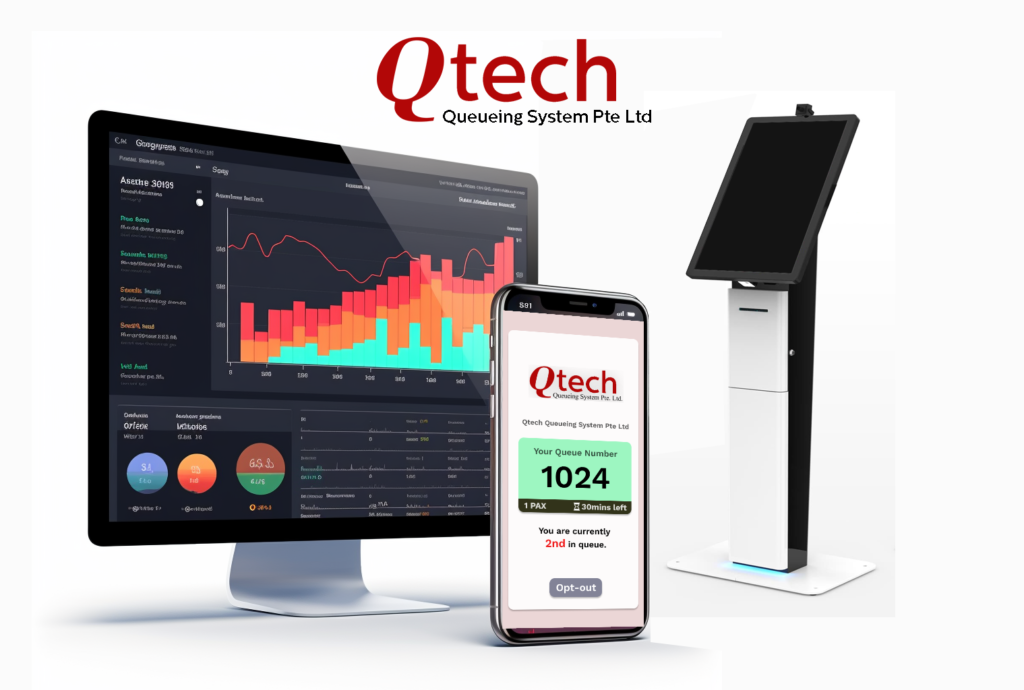 Feature Overview for Qtech's Enterprise Level Queue Management System
---
---
---
Pre-Arrival
Appointment Scheduling System

Accept online bookings from your customers, send booking reminders, and efficiently allocate your employees via the Appointment Scheduling System.
Virtual Queue Weblink





Allows customers to take a virtual queue number in advance, without physically having to be in the premises. 
IVR Phone Call





Allow customers to call into your hotline and allow them to book a appointment slot by pressing "1". We will send them a SMS link to book their appointment. 
Onsite
Self Service Kiosks



Allow customers to take a Queue Number (Virtual or Physical Queue Ticket). 

Acts as a device to validate if the Appointment Holders has arrived on time.

Integrate Appointment Holders and Walk-In queues into a single queue and serve both of them in your preferred organised manner.
QStatus Weblink

 (for Customers)



Allow customers to monitor their current queue position & estimated waiting time online, and the option to opt-put of queue, reducing no shows.
Smart Notifications 


(Web Notifications / SMS)



Send customers a notification via Web Notification / SMS. Due to the expensive cost of SMS, we can use Web Notification as the preferred choice of notification, and only fallback into using SMS when the Web notification does not reach the customer. This will result in a huge cost savings over having SMS as the only form of  notification.  
Staff Keypads



Allow Staff to call for queue number. Staff are also able to perform various queue functions such as transfer, recall, reserve of queue numbers. 

Staff are also able to prioritize calling a specific service (high value customers) via the keypads. 
Queue Supervisor Tablets



Allow Supervisors to create queue ticket / check statuses on existing queue tickets, reorder queue tickets so as to control the overall flow of the queue in the premises.
TV Queue Display

A hardware device to show the currently called queue number for all counters.

Able to be customised to fit your company's corporate branding style.
Counter Display

A hardware device to show the currently called queue number for a specific counter.
Queue Monitoring Display

 (for Supervisors)



A device to display the efficiency of the Service Staffs, the current status of the Queue (eg. Total Waiting / Estimated Waiting Time), and to alert Supervisors at the backend of any pending issues.
Post Service
Feedback Display / SMS Feedback Weblink



After Serving, the customers are able to provide feedback on their experience via the Feedback Device / Weblink sent via SMS. 
References:
Commonly Used Products